From 15 November 2021, operators will no longer need to wait a further 28 days or more to operate after receiving a PBS Vehicle Approval for the list of combination designs.
Several High Productivity Vehicle designs have been added to this new notice to remove the need to apply for access when using the main routes in Victoria.
While there is still the need to apply for first and last km, operators can use the vehicle on the road with just their Vehicle Approval and "turn a wheel" immediately.
This means operators will no longer have to tolerate new and expensive combinations sitting in yards, waiting for permits to arrive before they can commence operating.
The vehicles and combinations included are: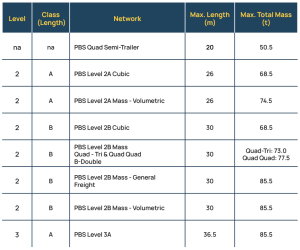 This is great news for the industry and for those looking to purchase new equipment that can go to work immediately!
As mentioned, first and last Km access is still required. Please contact Smedley's Engineers for assistance with this request or any other PBS related enquiry.
Source: NHVR 2021, 'National Class 2 Performance Based Standards (High Productivity) Authorisation Notice Operator's Guide' [ https://www.nhvr.gov.au/C2021G00863 ]