Validating underrun devices through simulation
Smedley's Engineers is an approved testing facility which offers Front Underrun Protection (FUP) and Rear Underrun Protection (RUP) ADR84 and ADR91 validation services to manufacturers of vehicles, trailers, bull-bars, bumpers, and tail-lifts through simulation. Our service provides you with comprehensive support starting from the design of the products through to the issuance of a Component Type Approval which is based on manufacturer requirements. This is a similar service to what is offered for ADR62 devices such as tow cross members and drawbars.
The extension to our service capabilities has been enabled through the combined efforts within the Design, Testing and Simulation team. "This is a lot more complex than a typical Finite Element stress analysis. When validating underrun devices through simulation, we track the slippage and breakage of bolted and pinned joints, the permanent and temporary deformation of components and the contact interaction between parts as damage is incurred. We can also build out from here to simulate complex failure behavior in broader aspects of engineering design, backed up by the physical testing we use to close the loop," stated by our Design, Testing & Simulation Engineering Manager, Dion Simms.
What is the difference between simulated and physical testing?
Simulating these tests saves the logistical challenges and cost of physically testing a prototype and allows for fast design iterations to be evolved in an agile design development environment. Eliminating the dependency of fabricators and test engineers with a single simulation engineer enables design teams to move rapidly without compromising on OH&S or outcomes.

Image: Rear Underrun Protection (fitted)
The requirements of ADR84 (Front) and ADR91 (Rear) stipulate that the original and final geometries of an underrun device, subjected to test forces in a range of locations, must meet dimensional requirements. "These requirements are intended to prevent a smaller vehicle from running under a heavy vehicle during a collision. This ensures that the safety features of the smaller vehicle designed to protect occupants in an impact can remain effective," states our Project Engineer, Darcy Shepherd.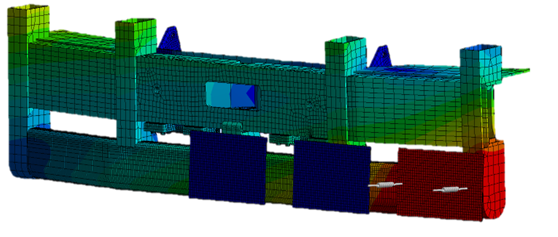 Model: Computer simulation of a modular bull bar design
Project Engineer, Simon Burston adds, "Testing by simulation allows us to provide manufacturers of modular bull bar designs with validations across a range of vehicles, just by changing the brackets, loadings and positioning in a model. This is an exercise that happens within a matter of hours, whereas to physically test the same thing would require producing and then destroying a bull bar for every truck model which requires validating."
Many vehicles can address their ADR91 Rear Underrun requirements by following a prescribed design or proving structural equivalency. However, the flexibility provided by simulation of the tests allows non-standard designs to be validated, such as combining tail lift components with rear underrun components for a more efficient and safer design.
Emerging safety technology – Side Underrun Protection
An emerging safety technology, Side Underrun Protection (SUP), is also gaining momentum in the industry for heavy vehicles, especially in urban settings where interactions with other road users are frequent. UN ECE Regulation 73 defines requirements for these devices, which are a condition of access for some PBS vehicles entering urban areas. The same simulation approach Smedley's Engineers apply for front and rear underrun can be applied to side underrun, ahead of any possible future adoption of UN ECE R73 into Australia as an ADR.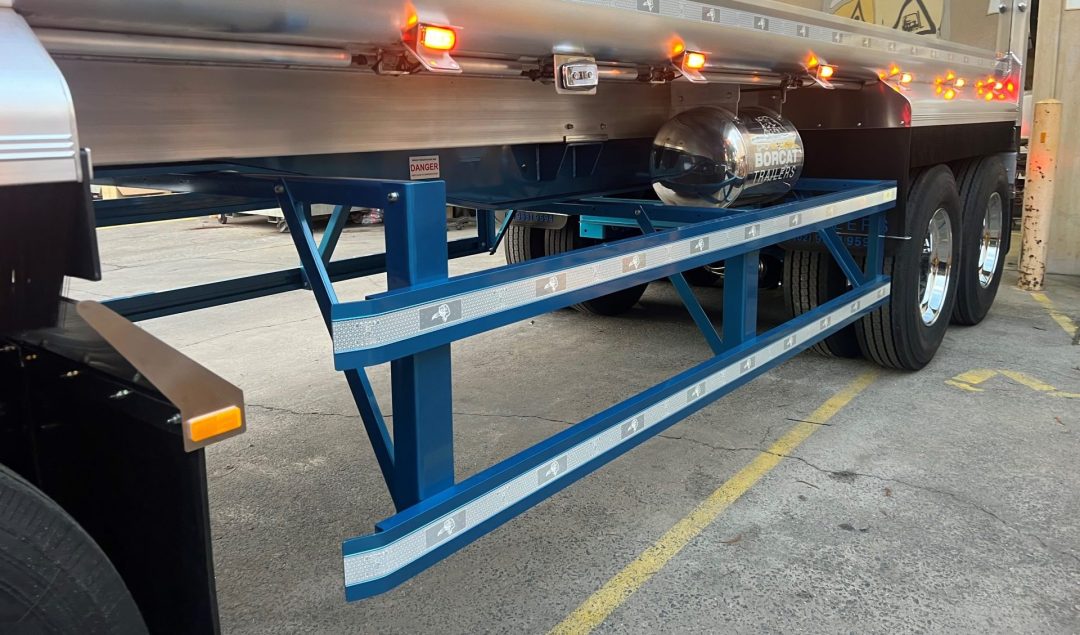 Image: Side Underrun Protection (fitted)
View more of our services here: https://smedleys.co/services/
https://www.infrastructure.gov.au/infrastructure-transport-vehicles/vehicles/vehicle-design-regulation/australian-design-rules/third-edition